Making the Most of a Composite Deck in the Winter Months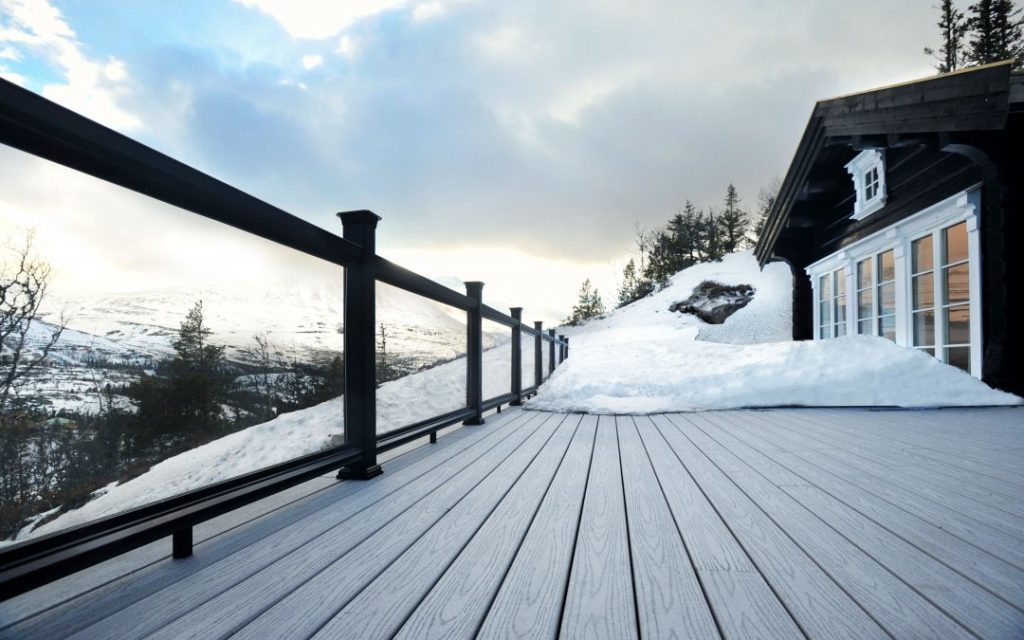 During the holiday season in winter, you probably get visits from family and friends. Your deck is the ideal outdoor area for entertaining guests. But, many homeowners assume their decks are only fitting for spring and summer. That's not the case. If you're not using your deck in the winter months, then you aren't getting the most out of your valuable investment.
The following are some of the ways you can get the most value from Deckorum Composite Decking all year round.
1. Get a Patio Cover
Without a doubt, ice, snow and sleet can make a deck uncomfortable or possibly damage it, depending on the material. A high quality patio cover can prevent the harsh cold weather from invading your outdoor investment. Additionally, it will let you sit on your beloved deck watching the snow fall gently.
2. Set Up an Outdoor Heating Unit
Next winter, make your outdoor area warm and comfy by incorporating a fireplace or other outdoor heater to your composite deck. The addition will make the deck an ideal spot for evening chats with loved ones. It will also add some character to your outdoor space.
3. Upgrade the Outdoor Lighting Features
Since winter has shorter days and longer nights, most people head indoors once the sun sets. However, that doesn't need to be the case always, especially if you love spending time in the outdoors. By upgrading your outdoor lighting, maybe through holiday string lights and LED-lit stairs, you'll be able to extend your time outside.
4. Invest In a Hot Tub
A mountain spa with warm, bubbly water just outside a house is simply amazing. Well, all that can become a reality for you by putting down a hot tub on your composite decking. Nothing beats the cold weather than slipping into a warm, relaxing tub. With such a luxurious addition, your winter days will never be the same again. The best thing is that high quality composite decks are resistant to rot and mould and will serve you for multiple winters.
5. Add Seasonal Décor
Your deck is probably full of greenery in summer and spring seasons, but that goes away during winter. Most plants cannot survive the harsh weather, which can leave your deck bare and dull. However, you can choose to incorporate some holiday season decorations and some winter tress to your deck. That will brighten things up and make the space inviting for your guests.
Talk to Deckorum for Year-Round Composite Decking
Homeowners want a deck they can enjoy all year long, not just during summer and spring. At Deckorum Composite Limited, we understand the winter woes of homeowners, and that's why we offer state-of-the-art composite decking products. Our composite decks are resistant to mould, mildew, staining, and rot. They are just the perfect solution for the winter months.
We use recycled wood and polyethylene to manufacture our high quality composite decking. With our long manufacture's guarantee, you are rest assured your durable decking will stand up to the elements for numerous years. Deckorum's eco-friendly products are low maintenance, anti-rot, anti-warp, anti-splinter, non-slip, and come with a 25-year warranty and amazing colours. For same day materials quotation, please email us at [email protected] or call us at 0203 633 4979.
Related Posts