Just a Few Pieces from Bellavista Collection That Became a Part of Various Design Projects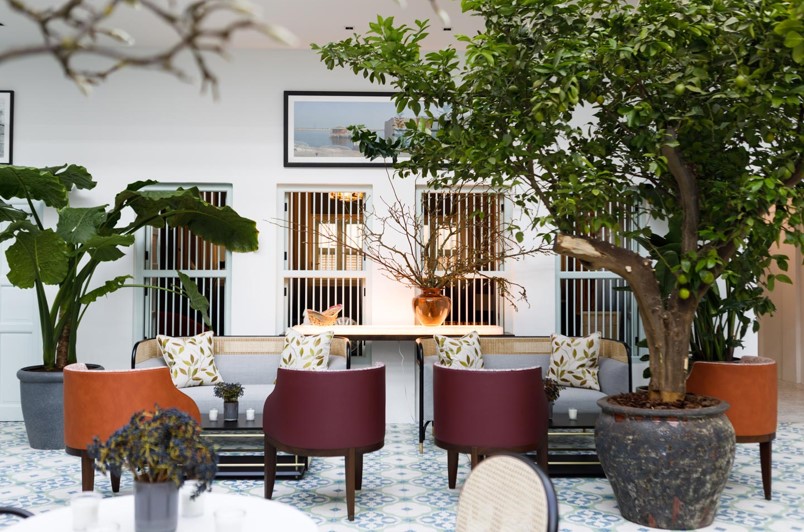 Being a reputable producer of Italian luxury furniture, Bellavista Collection maintains strong business ties within the industry.  Attilio Zanni, the company's co-founder, is so gifted as a designer that he turned Bellavista Collection into a recognized brand.
No wonder that Attilio Zanni co-operates with talented designers and architects, who use pieces from Bellavista Collection in their design projects. So, items from Bellavista Collection can be seen in luxurious apartments, houses, mansions and villas, as well as small businesses like restaurants and hotels around the world.  Some of these projects win awards.
Here is just one example: the fashionable six-suite Nuzul Al Salam Hotel in the historic city of Muharraqt, Bahrain. Bellavista Collection is pleased to have contributed to such a noteworthy project, which won several awards in 2020.
A close-knit team of extremely talented young Bahraini designers from Ammar Basheir Creative Studio, headed by architect Ammar Basheir, turned an old decaying building named Fathallah house into a landmark of the city. Nuzul Al Salam Hotel is the very first building, which numerous visitors to the famous tourist attraction – Bahrain Pearling Trail – see on their way.
Boss armchair, Big John sofa, BICE chairs, RITZ, MAO, and ELIZABETH console tables, not to mention GARCIA luggage racks – all these beautiful pieces from Bellavista Collection you can see in the renovated Nuzul Al Salam Hotel.
Should you find time to visit this place, you'll easily recognize RITZ console table and a few BICE chairs right at its luxurious entrance hall.
BICE, a three-legged dining chair, turned out to be a successful choice for a hotel: this chair is extremely cozy and compact at the same time. BICE chairs at Nuzul Al Salam Hotel are upholstered in custom-made fabric with a Middle-Eastern pattern. If you feel like having one at home, feel free to choose between fabric or leather upholstery, with each option available in a number of colors. As to the wooden structure of BICE, it can be veneered with either dark stained walnut or moka stained oak.
RITZ console looks outwardly luxurious, due to sophisticated design and a thick slab of natural white onyx, backlit with LED lights, used for the tabletop. This item belongs to Dulcechina Collection – a group of twelve furniture pieces, created in 2018. Inspired by ever-charming Oriental motifs, Dulcechina collection scored such a success that it is still displayed in a separate section of Bellavista Collection's website.
MAO console is from Dulcechina, too; its tabletop, made of natural Vienna straw, also looks chic. The honey color of the straw and dark-colored moka stained oak of the structure make a lovely contrast. By the way, at the Bellavista's website, MAO console is offered in as many as seven wood options.
One more console table, ELIZABETH, has a metal structure – cast brass with a hammered antique bronze finish, refined by hand, looks gorgeous indeed. The ELIZABETH console chosen for the project has a tabletop made of grey sukupira with a glossy finish. You can well have the same variant if you wish. Or would you prefer glamorous ebony, also offered with or without a glossy finish? Other options include natural sycamore, natural or stained American walnut, and belting leather, which comes in a number of colors – black, red, beige, and a few shades of brown.
BOSS armchair, chosen for some of the hotel rooms, really warrants its name, so grand it looks. Its structure, made of moka stained ashwood, goes extremely well with leather upholstery of cappuccino color. Well, you can well choose leather of some other color (three categories of leather of different colors, 74 options in total), or fabric upholstery, also coming in a wide variety of colors.
Nobody will argue that luggage racks come in handy in a deluxe hotel.  GARCIA rack, picked for the project, is equally useful and nice-looking. Its structure, made of moka stained ashwood, perfectly harmonizes with the antique bronze finish of the metal details, brown faux leather of the top, and saddle leather of the lower support.
Along with Nuzul Al Salam Hotel, there are lots of places in many countries where you can see pieces from Bellavista Collection.
For example, CHARLOTTE armchair was chosen for the lobby of the fashionable hotel named 'Four Seasons' in Abu Dhabi, the capital of the United Arab Emirates.
This stylish armchair is pretty compact but very comfortable to sit in. Its base, armrests and back part are made of solid wood, veneered with either ebony (with or without glossy finish) or moka stained beechwood. The assortment of fabric and leather offered for its upholstery is extremely rich.
Although most of Bellavista Collection's items were designed by Attilio Zanni, a brilliant all-round designer and the co-founder of the brand, CHARLOTTE is one of the few exceptions. This armchair was designed in 'Pascal Arquitectos'. It's a studio founded by brothers Carlos and Gerard Pascal – renowned architects, who are good friends and long-lasting business partners of Attilio and Fabrizio Zanni, founders of Bellavista Collection.
On Bellavista's website, in the section named 'Focus On', you can read about the pieces from Bellavista brand, mentioned in media or picked for significant design projects all over the world.
Also, there is a separate section named 'CASA BELLAVISTA Projects', where you can see images of luxurious interiors, furnished solely with items from Bellavista Collections. The latest project, named 'Villa in Franciacorta', included working out design solutions for a magnificent villa with a patio and an indoor swimming pool. This project features lots of pieces from Bellavista Collection. What is more, some of the elements – chandeliers, doors, wall paneling, to name a few – were created specially for this project in the brand's design studio.
Well, it's almost impossible to name all the projects where furniture from Bellavista Collections was used. There have been lots of them since 2010, when the brand came into existence. And there surely will be more of them in the future.
Related Posts